Soooo…. ever since DJ Bee has been a DJ for the local radio station, 103 JAMZ (WOWI FM), I have been a fan! Hands down, this guy is my favorite DJ! A true turntablist, an advocate for the culture of Hip Hop and a music lover in general. He's apart of a DJ crew out of Philly called Skratch Makaniks, he's also the host for Da Block on 103 JAMZ, but most importantly he's also the owner of an internet radio station called Fresh Radio. Ever since the launch of this radio station, him and his Fresh Radio team have put together an event called Fresh Friday's which is an event held at Jewish Mother Back Stage in Norfolk, VA, every month. Fresh Friday's is like going to a house party, but imagine a fully stocked bar being there, LOL. DJ Bee has had legendary DJ's as his guests such as, DJ Stretch Armstrong, DJ House Shoes, and DJ Red Alert to name a few. He's also had some of our amazingly talented local DJ's come through as guests, such as, Kuya Tribe Productions (who are a personal favorite of mine) Delinger and Disko Dave. He has also had Skillz (formally known as Mad Skillz) host the MJ vs. Prince night which consisted of all MJ and Prince records and music that related to their sound. He's also had Nottz Raw as a guest DJ for the seven city's first ever, Dilla Day. He's had Rich Medina, and Bink as guest DJ's as well as some lady DJ's, DJ Erika B, and Natasha Diggs. I mean, what more can I say about this man? He's pretty much amazing, and a living legend to the Hampton Roads area!
Well, I was lucky enough to perform at a Fresh Fridays. I was nervous as hell! I have performed in front of rough crowds before but this was different, a lot was riding on this. If I sucked? Then I woulda been the laughing stock of that evening. So I decided to perform "Tribute to Hip Hop", one of the strongest performance pieces that I have, and it was so well received, that after 2 and half years or so, I still get butterflies thinking about how the crowd received it! I shocked a lot of people that night, and I was glad, but so humbled and honored that I got to do spoken word poetry at an event that one of my hero's hosts and DJ's, every month. Big shout outs to Disco Stu, the official B-Boy for Fresh Radio for putting that together, and believing in my talent enough for me to have the spot light for 5 minutes! Again, thank you so much to the Fresh Fam and DJ Bee, y'all have no idea how much you have made my life, just off that moment on stage! When I'm 80 years old, I will still be talking about how awesome this was to do, and how awesome my friend Disco Stu was for setting this up.
Photo credit: Alexis Rogers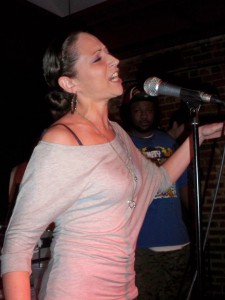 Here is video from that night. While the audio is muffled, you can definitely see that I wasn't playin no games with this performance and the best part about it? There was a hush that came over the crowd at one point! Yesssssss!!!